Tell us about the exhibition. How did your work come along?

Rahaab Allana (of the Alkazi Foundation for the Arts) had asked me to look back at some of my work for a possible group exhibition. We talked about photography and our interests over a few drinks. We talked about the processes and the theme behind the exhibition. We worked on various ideas, and initially, I proposed my series from India that I was building. The theme didn't seem suitable. So, I started to look back at my formative years as a photographer. I went back to my images from New York and I felt that this was the kind of work I wanted to show. My experience of New York as a photographer was a crucial period for me.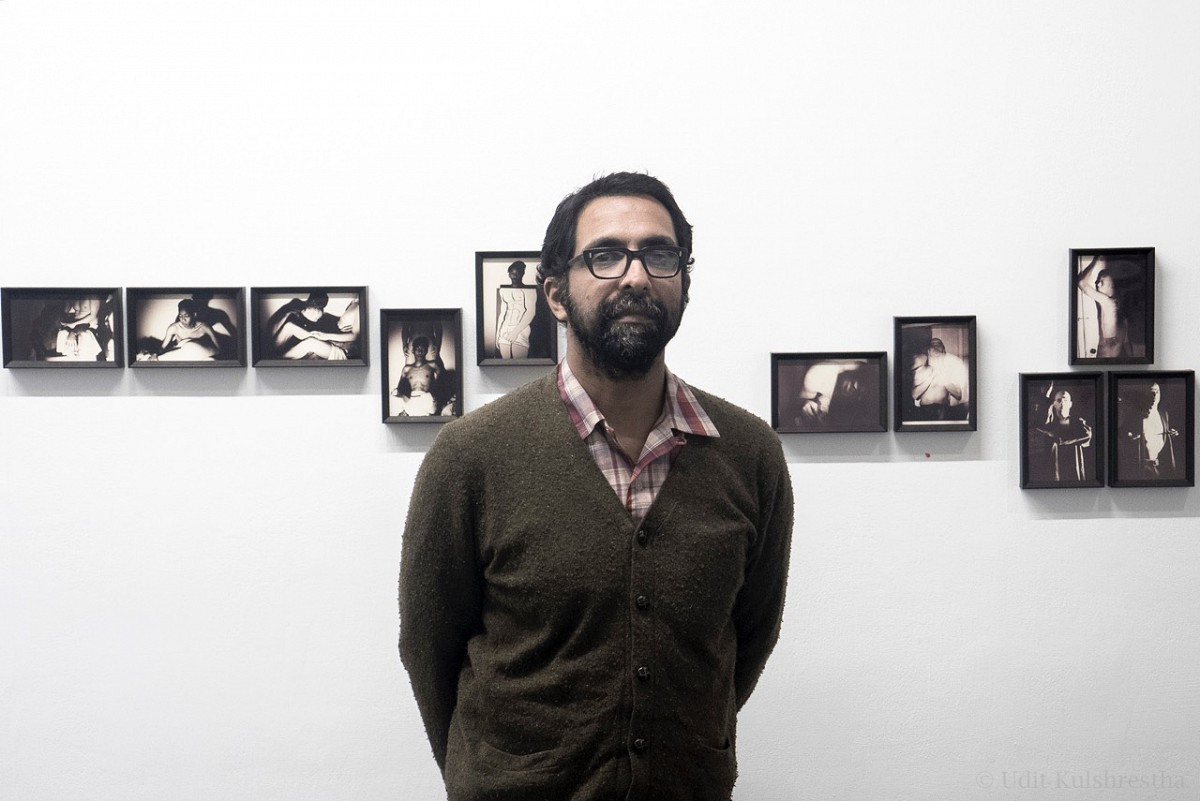 Tell us more about this project.

It is a whole set of 4×6 images — all my friends. I did this in New York. Basically, of 1980s or 1990s, early 1990s or mid 1990s was a crucial time in New York. I used to go to photograph protests and of course, it was also a vital time for the music scene. I saw other photographers shoot abstract images through the train and I was really inspired by that. and I decided to do something similar. So, I started to photograph the torn posters on the walls of the New York subway. One set of series is that, but the other more crucial series is of the protests in New York. There was a rally in New York after Matthew Shepard was killed. He was killed in Texas and he was gay. There was lot of pro or against. People talking about Christ, people talking about how homosexuality was a sin, but people also supporting Matthew Shepard. So, I have done a whole series of photographs on that. Then, I also started doing portraiture, I did portraits of my friends. I started making more formal traditional portraits because I think in New York, lot of people were getting contracts on portraiture work for magazines.

When I look at this work, there is a certain amount of proximity to these people, your friends, you were in that space, but when somebody looks at your coal work, there is a certain amount of distance, a certain amount of subtleness in that work. Is that how you planned it?

No. I like to think that I get close enough to people while I photograph them for these stories. But the coal mine series, which was shot over a long period of time, was also much more refined and thoughtful in my opinion. I really spent a lot of time there, sat with people, had conversations and photographed when it was necessary. So, I do feel that I got really close to the subject and the subject matter.

What kind of stuff will you be shooting?

I am looking for more environmental stories, but I also want to look at landscape. I will start by going back and shooting more film, because I want to use the expired film I have. I'm curious to see what I get.

.....What would you do next?

I am going to go through my older images and see if I can build more stories through what I have photographed. I mean, I got all these photographs from my backpacking times. I would like to make a series of that, see if there is something I can work with. I have got a whole Kumbh Mela series which I have done nothing with. And, much much more.

What would you like to tell young photographers?

I think one important thing to know is not to go with trends so much. I think there are lots of trends regarding photography, style and aesthetic. I think there are too many influences out there. I think it is more important to stick with whatever you believe in. There was or still is a big trend is processing your work that looks like the work of Japanese or east European photographers. I think we all emulate and copy and I suppose we eventually find our own style. I think one should look at other kinds of work- illustration, paintings, graphic art, print making... It all helps.

Are you talking about the Japanese style?

Yes. Japanese and east European style of burning the blacks.Not all photographers do it of course. I don't remember the technical term, but it is like crushing the blacks. That was/is a big trend. It doesn't work for me often. I have got to see detail, even if it appears like nothing. If it has no contrast, I will still like that image. I want to see detail in photographs.

Do you use Instagram?

I do, but I am not very good at it. I don't have 10,000 or 50,000 followers. I don't put my 100% in it. I do it just because the space is there. But it is not something that I do actively. I look for something to push me.

 Text, Photo & Video © Udit Kulshrestha